About Asahi-Ya
Asahi-Ya was established in Linkou in 1988. Focusing on the products related to konjac with our earnest and sincere hearts, Asahi-ya has been consistent in the past several decades and finally become the konjac manufacturing company that is highly recognized in the market. Asahi-Ya is also the appointed partner in the catering industry, including domestic hotels and restaurants as well as an appointed partner for konjac ingredients that is widely trusted. This demonstrates that the solid manufacturing capacity and the management principle of sincerity and responsibility that we possess have won the trust and recognition among numerous professional catering providers, distributors, and consumers.

In 2000, Asahi-Ya spared no expense in investing the expansion of the plant at the current site in Luzhu Township, Taoyuan County to serve a wider customer groups and pursue its corporate philosophy of always striving to improve. With the intention of providing safe and delicious food as well as a management procedure of a complete and professional SOP, Asahi-Ya created an exclusive magic temple of konjac!

In July 2006, Asahi-Ya formally introduced the quality control system of ISO 9001: 2000 due to its stick self-requ
irements as well as the international HACCP quality safety control system. It passed the verification in Decembe
r 2006. In April 2008, Asahi-Ya obtained new certification of ISO 9001: 2008 again to meet the strict world food hygiene standards, maintain corporate competitiveness,
and encourage morale among its employees.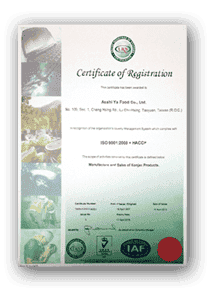 Asahi-Ya focuses on the safety supervision of raw materials over the several decades. There is no concern on the hygiene in the environment, and on top of that, the quality is absolutely excellent, the technology is precise and advanced, and the products are delicious and diverse. All the efforts on these focuses are to provide the most prefect and safest good quality konjac to consumers and customers.

History and information of konjac
The ingredient, konjac, might be strange and unfamiliar among many people. People often confuse it with agar and coconut jelly. In fact, konjac is produced with natural plants and is a delicious food ingredient that is good for health. However, it is usually misunderstood and then gradually forgotten by people. Now, it is the time that we start to learn more about this excellent food ingredient and see its abundant and diverse appearance. We shall use it often on the food served on our tables as well as experience its magic in regulating physique, protecting health, and creating something delicious.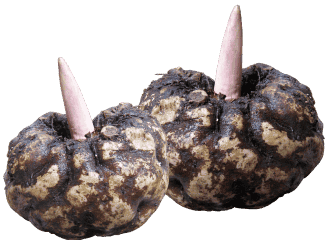 Konjac, also known as the devil's tongue, is a perennial ratooning tuberous herb plant (meaning the part above the ground will die in the winter while its root is still alive; it will continue growing next year). It is in a shape of oblateness and mainly grows in the mountain areas that are out of wind. According to "Herbal Foundation Compendium", konjac had started to be grown in China more than 2,000 years ago. After it spread to Japan, it was applied to medicine in Yamato Period. In Kamakura Period, konjac was regarded as a deluxe offering in temples as well as used in the exquisite dining for monks. During Muromachi Period, it was the expensive snack for wealthy families. It is not until Edo Period that it started to become popular food among civilians. The Japanese see konjac as precious health-maintaining food, and they use it widely in their cooking. Therefore, konjac is also called "Japanese tofu" and enjoys the laudatory title of "gastrointestinal cleaner".

Other than the characteristic of low GI and low calories, the main element of konjac is "glucomannan". From the theory of nutritional science, it is a type of polysaccharide that links with glucose and mannose together. It is a dietary fiber that in the same family as pectin. It can provide satiation, promote gastrointestinal peristalsis, regulate physiological function, maintain the normal ecology in our digestive tract, and further guard our health.
Awakening of Perfect Konjac: 96-Hour Transcending Practice
Upgrading the traditional manufacturing process from Japan, Asahi-Ya enhances the technology to simulate the sense of hand touch
Develop new flavor of konjac and create a new sensation to the tastebud

With the unique formula that is exclusive to each product that Asahi-Ya developed, natural konjac essence powder, food grade calcium hydroxide, and water are measured precisely for a perfect ratio to ensure the konjac produced is delicious, safe, and healthy.



With the standard procedures (SOP), the excellent quality konjac essence powder is mixed gently and thoroughly with the water in a temperature of 18°C. It is then standing for one hour and 40 minutes to make sure it is swelling evenly so that each single konjac essence powder can be soaked in water fully to wake the most precious "glucomannan" contained in konjac.


The fully swollen konjac powder will present the natural glossy as crystal clear as pearls. Then, we use the "hand-touch simulating kneading machine" innovated and developed by Asahi-Ya to mix the swollen konjac powder with the high-end food grade calcium hydroxide imported from Japan in the traditional hand-made strength and technique to knead evenly. The strength of soft konjac containing calcium for food will become solidified gradually.



Konjac perfectly mixed with edible calcium water become very mellow. The professionals in Asahi-Ya then knead and reform it into different shapes, including square shape and rice grains, presenting the shapes in the rain in spring or ramen and various kinds of forms while reaching the same deliciousness.



The konjac kneaded into shape will be left in the calcium water with proper concentration for 2 days. The calcium water shall be replaced with a fresh one every 24 hours to fully extend the fine pores on every piece of konjac reach the perfect balance of the concentration of calcium. That is the awakening of healthy energy provided by konjac.

Konjac can be presented in the way you prefer according to personal preference and requirements with different cooking methods. It can be served as the main dish, a side dish, or dessert and snack. The temperature is from your imagination towards it, the taste is from how you cook it, and the diversity in changes is far beyond your recognition. Perhaps, you always thought that konjac is the food ingredient specifically for vegetarians and people who are trying to lose weight. In, fact the seven key advantages that konjac has absolutely make it the good food material suitable for everyone in the family from the youngest to the oldest. From now on, let's use diverse and delicious konjac dishes every day to manage the weight and maintain health for our family so that we can all live a most brilliant and happy life!

Contact Us
: